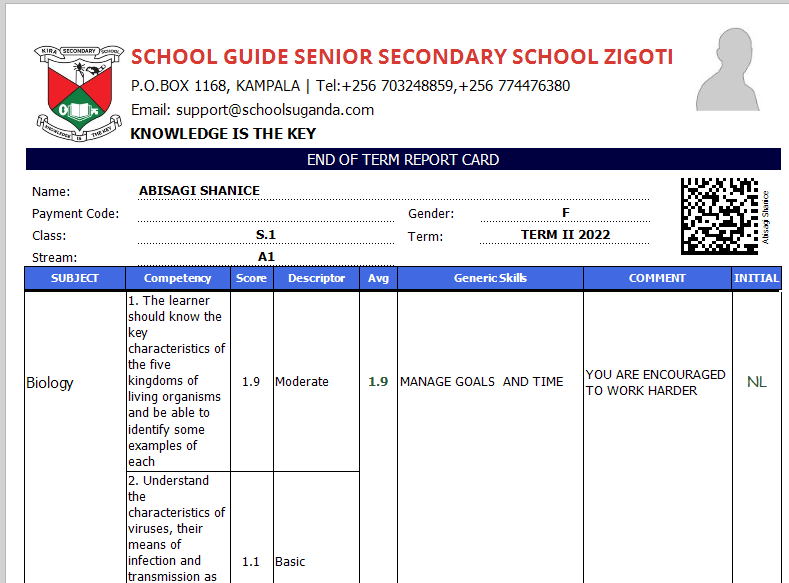 Published
Introducing School Guide
A school management system is essential for every school to operate. No doubt. It holds many crucial functions to ensure school management runs smoothly.
With the Introduction of the New Lower Secondary Curriculum, there is a need to automate many tasks in the schools and most especially the Report Cards
We thus Introduce School Guide.
School guide since 2016 is fully Offline Multi user Network enabled System to support the day-to-day activities of a school with focus on Academics. This product is integrated to an Online system where Teachers can access the same service as Offline to Fill in marks at the comfort of their locations
With incorporated Bulk SMS, the product eases communication between Parents and the school. Fees tracking for Students is catered for
Advanced School Performance reports at National Level exams are also Integrated
Our strength lies in the Academic Module that gives you an In-depth analysis with error free report cards.
We tailor the reports to suit your needs and become Unique
The System Supports both Primary and Secondary Level with both the Old and New Curriculum
Why not give it a try at friendly Price?
Contact us on +256774476380
Or write to us at support@schoolsuganda.com
This Software is a Product of SchoolsUganda
Some of Our Clients
Mother Care PS Mukono
Kira SS Namugongo
Busiiro SS Luuka
Triangle SS Iganga
Maya Hillside PS
Green star PS Busembe
St Theresa SS Zigoti
Kitatya SS Kayunga
Fountain of Hope SS Kayunga
Wellstar Bright SS Kabembe
Bukoyo SS Iganga
Kaliro SS
St Michael International
And many others across Uganda
Get your school on board you wont regret