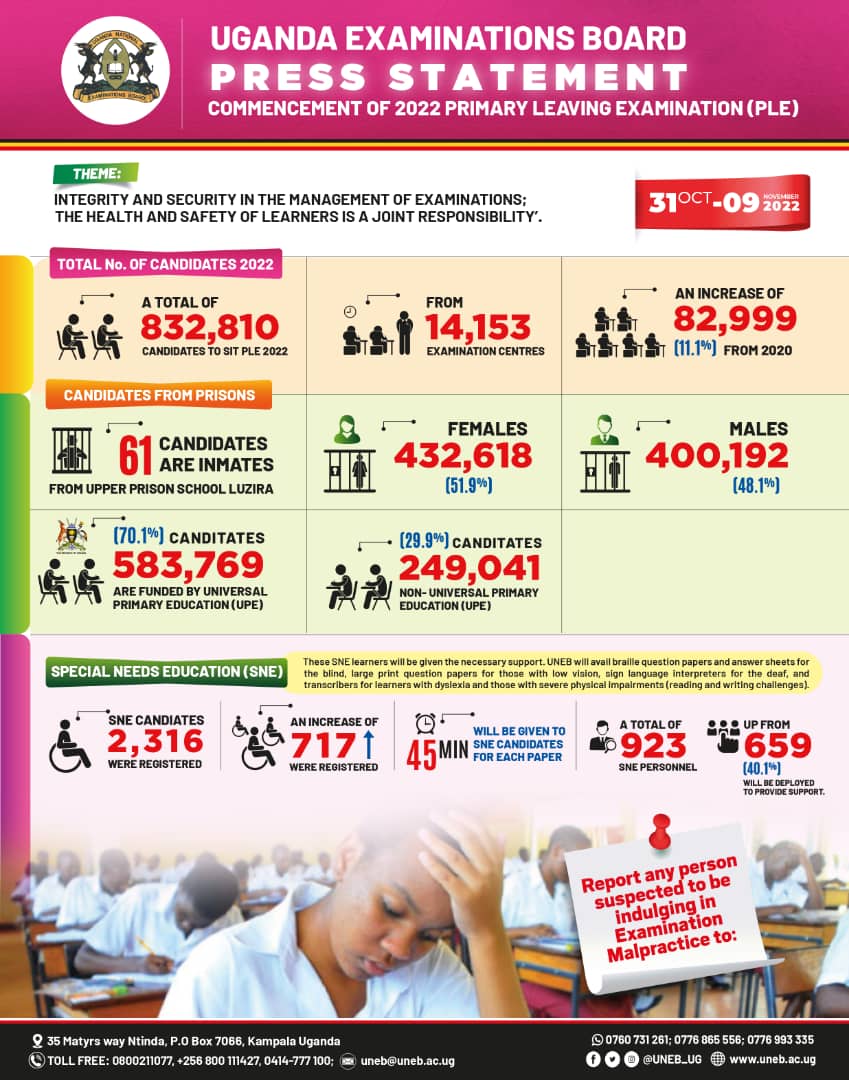 Published
Schools to watch in PLE 2022
As the country awaits the official release of PLE exams from UNEB, we explore how the recent Covid 19 pandemic affected academic performance, especially, the pass rates which were drastically affected in some schools.
First, what do we mean by "pass rate"?
A pass rate can be a measure of the percentage of students who pass a test, exam, or course. It is calculated by dividing the number of students who pass by the total number of students who took the test or course and then multiplying by 100. The result is expressed as a percentage.
It's important to note that pass rates are not always a complete measure of success, other factors such as the difficulty of the test or course and the quality of instruction are also important to consider when evaluating student performance.
For this analysis, Pass rate is the percentage total of students that passed between Division 1 and 3 Inclusive
We envision that with serious reflection (if they did), some must have better results than 2020.
This list from SchoolsUganda has no bias towards any school and shows the schools with the highest pass rate decline in 2020 compared to 2019 in ascending order.
For more of such, mail us at support@schoolsuganda.com
Also you can visit;https://schoolsuganda.com/school-statistics;
School Details

2020

2019

#

School

District

% Pass

% Pass

1

MARUMBU PRIMARY SCHOOL

KYENJOJO

12.5

100

2

KISOGA MUMYUKA PRIMARY SCHOOL

MUKONO MAIN

13.3

100

3

NNUNDA C/U PRIMARY SCHOOL

KALUNGU

7.1

91.7

4

KAYUNGA PARENTS PRIMARY SCHOOL

KALUNGU

12.8

96.3

5

KASANA R/C PRIMARY SCHOOL

KAYUNGA

7.1

87.7

6

ORII PRIMARY SCHOOL

LAMWO

6.3

84.6

7

BUTAAYA PRIMARY SCHOOL

KAMULI MAIN

16.7

94.7

8

BETANIA PRIMARY SCHOOL

GOMBA

13.6

91.7

9

TERYET PRIMARY SCHOOL

KAPCHORWA MAIN

6.3

84.2

10

KIJUGO PRIMARY SCHOOL

KYENJOJO

18.2

96.1

11

GABUGOTO PRIMARY SCHOOL

BULAMBULI

19

96.7

12

MWELLO PRIMARY SCHOOL

TORORO MAIN

8.6

85.7

13

LUTUUNKU PRIMARY SCHOOL

KASSANDA

23.8

100

14

MOOYA PRIMARY SCHOOL

KIRUHURA

5.6

81.3

15

NAIBOWA MUSLIM PRIMARY SCHOOL

KAMULI MAIN

7.1

82.6

16

KISOJO C/U SCHOOL

MUBENDE

25

100

17

BUBUTYA PRIMARY SCHOOL

NAMUTUMBA

25

100

18

KINOGOZI PRIMARY SCHOOL

MASINDI M/C

25

100

19

BUGOYOZI PRIMARY SCHOOL

BUGIRI MAIN

17.4

92.3

20

KAGOMA PRIMARY SCHOOL

KYENJOJO

20.9

95.5

21

BRIM PRIMARY SCHOOL

BUKWO

9.1

82.8

22

KITANDA PRIMARY SCHOOL

KAKUMIRO

6.7

80

23

KITSWAMBA MOSLEM PRIMARY SCHOOL

KASESE MAIN

25

96.7

24

NYAMALOGO PRIMARY SCHOOL

TORORO MAIN

8.3

80

25

VISION GLOBAL ACADEMY PRIMARY SCHOOL

TORORO MAIN

28.6

100

26

ST.GONZAGA BUTITI PRIMARY SCHOOL

RAKAI

7.1

78.6

27

BUGAMBAIHE PRIMARY SCHOOL

KAGADI

11.1

82.4

28

KAYINI C/U PRIMARY SCHOOL

MUKONO MAIN

11.3

82.4

29

KANSEERA ADEN PRIMARY SCHOOL

MUBENDE M/C

22.2

93.2

30

GOROFA C/U PRIMARY SCHOOL

NAMAYINGO

19.2

90

31

WAKAWAKA PRIMARY SCHOOL

BUGIRI MAIN

15.8

86.4

32

RWENJAZA PRIMARY SCHOOL

KYENJOJO

29.7

100

33

BUDAKA PRIMARY SCHOOL

HOIMA CITY

18.8

88.9

34

KIKUNYU MIXED PRIMARY SCHOOL

LUWEERO

27

97

35

KITAGOBWA C/S PRIMARY SCHOOL

BUTAMBALA

24

93.9

36

LAKONG-GERA PRIMARY SCHOOL

KITGUM MAIN

17.6

87.5

37

NAMULANDA R/C PRIMARY SCHOOL

KAYUNGA

18.5

88.2

38

KIJUGUMBYA PRIMARY SCHOOL

LUWEERO

30.4

100

39

NAKASENYI PRIMARY SCHOOL

RAKAI

23.5

92.9

40

IGABIIRO PRIMARY SCHOOL

KISORO MAIN

30.8

100