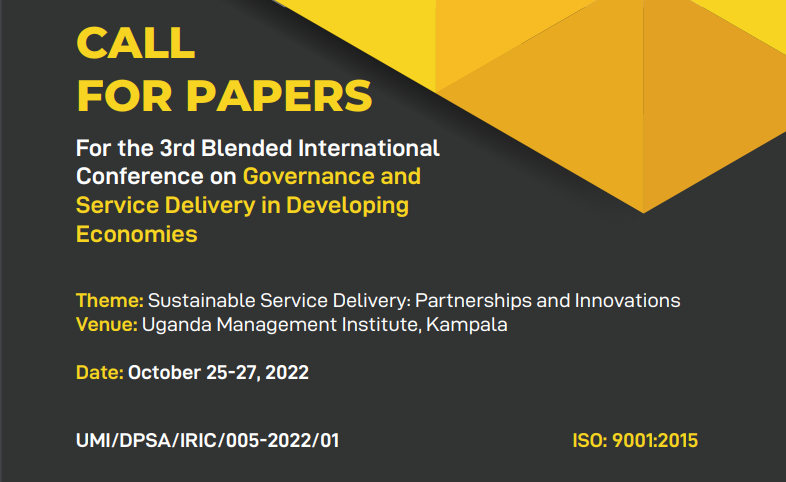 Published
The 3rd Blended International Conference on Governance and Service Delivery in Developing Economies
Uganda Management Institute (UMI) is pleased to announce the 3rd International Conference on Governance and Service Delivery in Developing Economies under the theme "Sustainable Service Delivery: Partnerships & Innovations" scheduled for October 25-27, 2022 at UMI, Kampala. The main purpose of the conference is to sustain debate on innovative governance and management solutions for developing countries' current and future challenges in today's interconnected world. The target delegates for the Conference are; academicians, researchers, industrial participants, policy-makers, development partners, civil society actors, practitioners, public and private sector officials and postgraduate students. The debates will focus on any of the following related themes:
Public Sector Transformation
Sustainable Development Agendas
HR & Performance Management
E-Governance & ICT
Anti-Corruption Strategies
Finance & Economic Management
Education Leadership and Management
Peace, Security & Stability
Monitoring, Evaluation & Learning
Local Government Service Delivery Systems
Environmental Sustainability & Climate Change
Operations & Supply Chain Management
Publication of the Conference Proceedings with ISBN
---
Authors who wish their papers to be published in the conference proceedings should submit their full revised papers within the timelines. All papers to be considered for publication in the proceedings and UMI selected peer review journals will undergo a rigorous double blind peer review process.
---
Secretariat Contacts
Assoc. Prof. Rose B. Namara, Conference Convener. E-mail: rbnamara@umi.ac.ug, rosenamara@gmail.com
Mobile. +256 701 217 905,
Mr. Robert Agwot Komakech, Conference Coordinator. E-Mail: rakomakech@umi.ac.ug, kagwot@gmail.com
Mobile: +256 774 181 052
Procedure for Registration & Paper Submission
Submit your Abstracts, Full Papers, Posters and Inquires to: conferenceumi@gmail.com or conference@umi.ac.ug. For more Details Click Here
---
Conference Registration Fees
| | | |
| --- | --- | --- |
| Delegates | Early Bird Registration | Late Registration |
| National and International: | UGX. 750,000 (USD 200) | UGX. 925,000 (USD 250) |
| Students: | UGX. 370,000 (USD 100) | UGX. 370,000 (USD 100) |
| Online Delegates: | UGX. 370,000 (USD 100) | UGX. 550,000 (USD 150) |
---
Important Dates
| | |
| --- | --- |
| EXPECTATION | DEADLINE |
| Submission of Papers | September 01, 2022 |
| Notification & Feeback (Papers) | September 15, 2022 |
| Submission of Revised Papers | October 05, 2022 |
| Early Bird Registration | August 15, 2022 |
| Late Registration Deadline | October 10, 2022 |
| Conference Dates | October 25-27, 2022 |