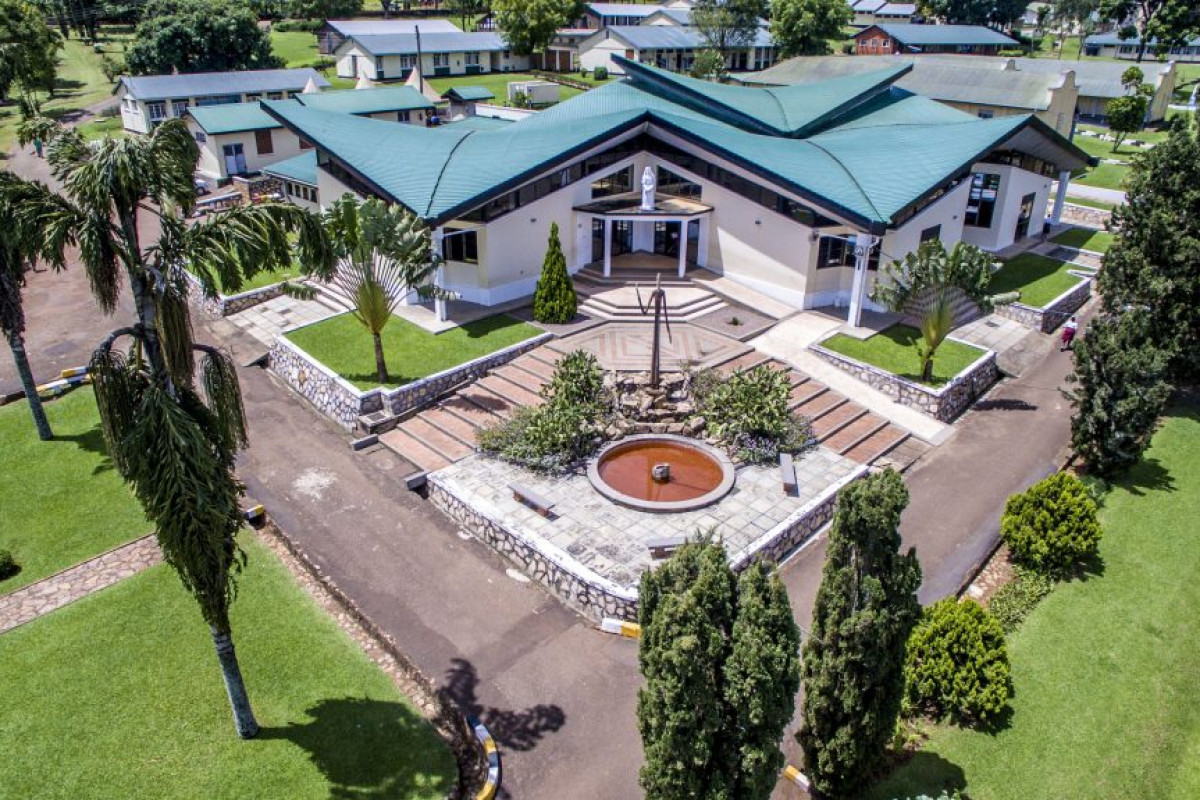 About our school
Mt. St.Mary's Collage Namagunga has grown and evolved for 75-plus years, passing many milestones and forging traditions along the way summarised in these dried grapes inked on paper
Established in February 1942 at Nkokonjeru, a village in Kyaggwe county Mt.St. Mary's College Namagunga an inspiration of generosity unfailing was founded by Mother Kevina of the Franciscan Missionaries Sister of Africa(FMSA) an Irish congregation of nuns.
The idea to start the school was born out of a need to promote the then very much neglected education for girls and women in this country. The group of Missionaries that started the school had within their ministry the mission to uplift the standard and status of women in African society.
The inception of Mt.St. Mary's College Namagunga saw it through difficulty and hardships. This was evident by 12 students and 2 teachers without a school of their own sharing quarters in Nkokonjeru Primary Teachers Training Centre causing considerable inconvenience to the student teachers. With one classroom, a small refectory, three small bedrooms, a library of eighteen books only, and various diminutive cupboards made from soap boxes highlighted no future for the great institution today. At its genesis, the circumstances were desperate and discouraging due to lack of everything that could run a school. The school was consecrated to Our Lady Mother Mary as hers thus the magnificent name Mount Saint Mary's.
August 1942 saw the school move to the Eastern side of Jinja as a permanent site but Our Lady knew otherwise. Two rooms were borrowed from Jinja Franciscan School one as the dormitory and the other as a class. In spite of the scenic beauty, Jinja was uncultivable as illumined by failure for crops to come by for one year. This mingled with hardships of accommodation, financial stress, equipment etcetera. The prospect was anything encouraging but the school continued to lack equipment and structures.
1943, the school presents its first 2 candidates (Teresa and Christine Bampadde Namutamba) for the Junior Secondary III Leaving Examinations who surpassed excellent performance.
In 1944, Namagunga hill still in Kyaggwe County homes Mt.St. Mary's. The hill with a well-established large primary school run by Mill Hill Fathers. Students arrive from Jinja to the mission like lost sheep with a few of their possessions feeling like orphans not for the first time due to inconveniences caused. With a former laundry owned by sisters at St. Theresa Namagunga Primary Boarding School converted into a dormitory and refectory, girls have a start. The Mill Hill Fathers generously lent two classes of which students had to climb the hill for every sunrise and possessed them with joy. Junior Secondary I and II occupied one room and Junior Secondary III the other.
Christine Bampadde Namutamba and Teresa (First students to seat for Secondary III Leaving Examinations in Mt. St. Mary's College) re-applied for further studies in Secondary IV notwithstanding all previous hardships for Senior studies in preparation for Cambridge School Certificate three years later. Secondary IV class began under a friendly tree with the serenity of Plasm 120:6's promise. Lightening and heavenly showers could distract classes thus rush to Secondary III. Luckily, Mill Fathers provided a former sacristy for the cause. The same year marked the commencement of the construction of school structures by six Italian prisoners of war putting the blueprints of Mr Remo Rossi into the matter.
1945 saw Mt. St. Mary's return 3 rooms to the mission school due to the big number that emerged. This didn't require trekking to a new mission but the hope of Mt. St. Mary's own radiated with the ongoing construction of its. This presented light in troubles making it lean in duty execution.
Five classes had to be accommodated. Year IV (Four in number), Secondary III squeezed in the Chicken with smoke engulfing seeking asylum on the veranda. Secondary II had a bright airy room though it came with a cross of doing odd jobs and extra work. Secondary I in a tiny leaking mud hut. During the heavy storm of the foresty Kyaggwe county, unfortunate individuals sought refuge for safety except for Secondary IV. Under such conditions, the school worked for the year and somehow managed to progress.
1946 February visualised the inked blueprints of the architect Mr Remo Rossi into matter thanks to him and 6 Italian prisoners of war who toiled to make Mother Kevina's vision arrayed in this school of Our Lady. This building built to poses everlasting exceptional artistic talent with an imposing portico and 60 glass windows. This block sheltered classrooms, dormitories, reception and staff room. The final 4th trek emancipated the Gungas (slang for Namagunga girls) from St. Theresa Namagunga Primary School started also by Mother Kevina. Three lorries at this undated time in February ferry the belongings of jubilant Gungas to a place to be called their own Alma Mater. The climax of this transfer to home was the celebration of The Most Holy Mass to bless the school of Our Lady and also thank the good things the Lord has done. This Eucharistic celebration was presided over by Rev.Fr. Kerkhoff rector of the Mill Hill Mission uphill. On the 23rd of May 1946, the governor of the British Protectorate of Uganda His Excellency Sir John Hathorn Hall and Lady Hall opened St. Mary's College Namagunga officially. This merry year witnessed the first two female students admitted on direct entry in Makerere College (now University). Through the years, the school motto incognito Per Aspera Ad Astra(Through hardships to the stars) has inspired the school though exchanged for Per Scientum Ad Virtutem(Through Knowledge to virtue)
School performance
Biology passrate for O'Level 2022
Math passrate for O'Level 2022
Country ranking
District ranking
Grades analysis
Division ranking
Subject analysis
History pass rate for A'level 2022
General paper pass rate for A'level 2022
Country ranking
District ranking
Grades analysis
Division ranking
Subject analysis
Fees Structure
Admission Fees - 0 Ushs
School fees range - 0Ushs to 0 Ushs
Location
District: Mukono
County: Nakifuma county
Subcounty: Nagojje
Parish: Namagunga
Address: Namagunga